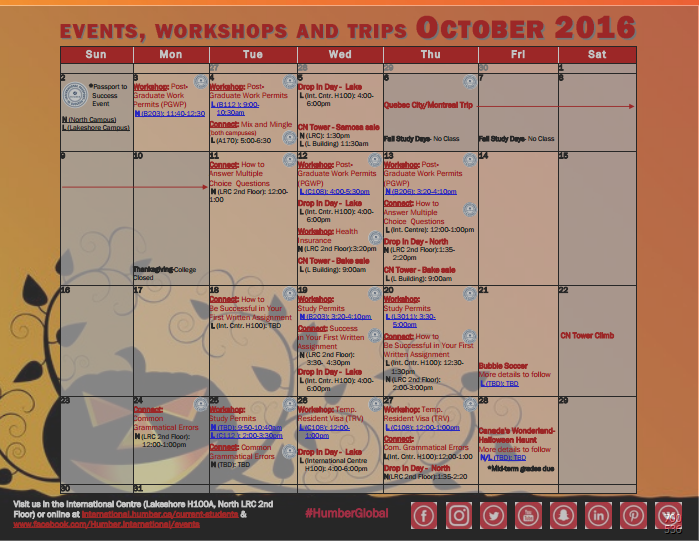 Now that everyone is starting to get settled in to their daily routines we wanted to add some more excitement to the coming month! For those that are looking for a fun way to get out and meet new people or experience something a little different
please check out some of our NEW upcoming events:
Event Name:
Bubble Soccer @ the Lakeshore Campus
This is your chance to experience soccer in a whole other way - Plus when else do you get a chance to body check an International Student Advisor!!!
Date:
Friday October 21st
Bus:
There will be a bus leaving from the North Campus Residence at 4:30pm, and then will return back to North after the event.
Location:
If the weather is nice we will be outside in an open field, if it is raining we will be holding it inside the Lakeshore Campus gym. Details to follow
Cost:
$5/ticket (Must register in advance at the International Centre)
Event Name:
Canada's Wonderland – Halloween Haunt
Experience a night of Terror as you enjoy the all the coasters Wonderland has to offer!!
Date:
Friday October 28th
Time:
Lakeshore Campus Students meet at the Lake Residence for 5:45pm, while North Students meet at North Campus Residence (R-Building) for 6:15pm. Buses will leave Wonderland at 11:00pm and return to both campuses.
**Tickets will be limited so please make sure if you are interested to register within the International Centre**
Event Name:
Killarney Provincial Park – Winter Camping Experience
This is truly an experience you don't want to miss out on. We spend 3 days and 2 nights in the Winter Wilderness up North where snow can reach waist high levels, and where the only other people around are those on this trip. Your accommodations for the nights will be something called a Yurt (fully heated and equipped with comfortable beds). However, all the cooking, games, Igloo building, hiking, etc. is all outside in this breath taking Winter Wonderland! Check the links below for past trips videos and pictures.
Date:
Tuesday February 21
st
– 23
rd
(This is your scheduled Reading Week and will not have classes)
Cost:
$250/person (Includes all Food, transportation, camping equipment and experience guides….not to mention tons of memories and a once in a lifetime experience)
More Information:
To inquire about what is included, timing of departure, and any other related questions please visit your International Centre or email me directly at

matthew.keefe@humber.ca
Please register for all trips within the International Centre (Lakeshore in H100, North Campus on the 2
nd
floor of the LRC building)